The Website of Record for Truth In the Sandusky Scandal
This website is dedicated to compiling and analyzing the evidence that an out of control news media created a false narrative in the Jerry Sandusky scandal, which effectively framed Joe Paterno for crimes he obviously didn't commit and of which he may have had very limited knowledge. This has resulted in an unjust destruction of a man's entire life work and legacy, while doing incredible damage to a university and football program which likely did not deserve the unprecedented and illogical punishments they received. At the very least, we have witnessed a colossal rush to judgment.
This site is NOT a defense of child sexual abuse. This site is also NOT remotely based on a conspiracy theory (the term "Framing" is meant figuratively, and not literally), but rather the notion that an incompetent, ratings driven media, along with some devious politicians, all acted in their own perceived self interest to tell this story in way not consistent with the facts. This perspective is outlined in this extensive blog post as well as this one.
We ARE dedicated to exposing the truth in this case and this website is the home of a proposed documentary film on this subject, "The Framing of Joe Paterno."
This site is intended to combine the efforts of the most ardent "Web Defenders" (since the mainstream media won't allow anyone to take a position like ours) of Joe Paterno, including John Ziegler, Marc Rubin, Barry Bozeman, Ray Blehar, Eileen Morgan and Walter C. Uhler. If others would like to join us in this cause, they are welcome to do so.
Our Sandusky Interview:
Recent Events:
Penn State Suddenly Decides to Start Defending Itself Against unfair Media Coverage in SI
John Ziegler Named 7th Most Notable PSU Person of the Year, Just Ahead of "Squirrel Whisperer"
Yet Another Louis Freeh Investigation is Deemed "Not Credible"
275 Attend Franco Harris "Upon Further Review' Event In State College
Centre Daily Times Previews Franco Harris Event in State College With Typical Bias
ESPN Reporter Whines About Rutgers/Penn State Students Being Upset at Them
Former NCAA Investigator Rips Penn State for Accepting Bogus NCAA Sanctions
"The Framing of Joe Paterno" Mini Movie Headlines American Documentary Film Festival
USA Today Does Far Greater Investigation Into NCAA President than Freeh Did of PSU
Book By Lanny Davis Documents How PSU BOT Wet Their Pants In Firing Paterno
PSU Letterman Take PSU BOT to the Woodshed in Press Conference
PSU BOT Follow Up Meeting to the "O.J. Meeting" Gets Very Interesting
Dick Thornburgh Responds to Frazier's Bizarre Rant, Doesn't Mention O.J.
Black PSU BOT Member Doesn't Care About Upcoming Trials Because White People Know O.J. Simpson Was Guilty
Emails From Freeh Team Would Be Considered Proof of Conspiracy by Freeh
Freeh Contract Reveals Blueprint For Where Investigation Would Go
PSU BOT Embarrassments Continue: Now Claiming Paterno Wasn't Fired
Brilliant Parody of ESPN Reporter's Incompetence On Sandusky Story
Franco Harris Calls On Penn State to "Rebuild Our Wall!"
Media Now Reduced to Ripping Franco Harris for His Running Style
250 Brave Snow Storm/Traffic to Learn Other Side of Sandusky Story
Slides Franco Harris Uses In His "Upon Further Review" Conferences
John Ziegler Tries to Open the Mind of Popular Philly Sports Radio Host
Video of the Bizarro World Tom Corbett/NCAA Lawsuit Presser
Transcript of Franco Harris/Mark Emmert Exchange
THE FRAMING OF JOE PATERNO" MINI MOVIE!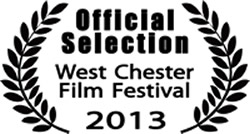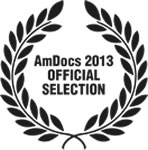 ---
This "Mini Movie" is intended as a small sampling of what the full documentary might look like if we get the support to do it. It has been accepted into the American Documentary Film Festival in Palm Springs and the West Chester Film Festival, both in April.
Please Share the Videos Far and Wide!
Philadelphia Inquirer Does Relatively Fair Article on Mini Movie
Penn State Newspaper Does Story on "Framing Paterno" Mini Movie
Pittsburgh Paper On Franco Harris Event Where Movie Debuted
Web Site of Patriot News Reviews: Mini Movie is "Required Viewing"
Bleacher Report Story on Mini Movie
Part One of Our Plan..... Expose the Media Bias....
In order to quantify the impact of the incredibly one-sided media coverage, we commissioned a scientific nationwide poll to determine the public's knowledge of the story. Thanks to remarkable support from those who want to see the truth finally come out here, we were able to fulfill our promise. And now...
Our public press release for the poll can be read here.
John Ziegler's Op-ed column for several Pennsylvania newspapers can be read here.
The Media Research Council's article can be read here.
The Penn State student paper article can be read here.
Listen to an awesome interview on the poll with KDKA CBS Pittsburgh here
Listen to another good PA radio interview dealing with several of our activities here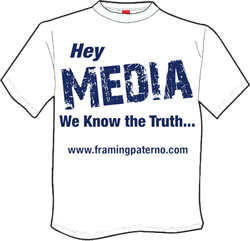 Part Two of Our Plan...
We have designed a T-shirt (seen to the right) which, thanks to your donations, we gave away to almost 1,000 Penn State students to wear at the first home game and the rest went to the Rally for Resignations..
Part Three!!!
Here is an exclusive MUST SEE VIDEO on the "cover up"!!! This is exactly what would have had to have happened if the Freeh Report is correct. Spread the truth and the laughs!
You can listen to Kevin Slaten interview John Ziegler about the video here
Part Four...
John Ziegler issues $10,000 Charity Challenge to Media on next "Penn State" Trial...
Will the media back up their beliefs for the sake of the victims of sexual abuse??
Read the INCREDIBLE E-mail exchange Ziegler had over this topic with the Program Director at the two biggest talk stations in Philadelphia (both of which have been EXTREMELY anti-Paterno/truth). See his arrogance and ignorance here.
Even more remarkably, read about what happened when Ziegler was invited on to one of the very shows that Program Director told him he had been banned from!! Numerous FCC complaints have already been filed because Buzz Bissinger dropped the F bomb!!
Part Five...
The weekend of Penn State's first home game we will be in State College starting to shoot for our proposed documentary.
Articles about this development have been printed in two major local papers, including here and here.
THANK YOU FOR YOUR REMARKABLE SUPPORT!! PLEASE KEEP SHARING THE WEBSITE WITH FRIENDS!!
Top Opinion & Analysis Just Released:
Ray Blehar's Part 2 on Importance of "Missing" Documents in Schultz File
Eileen Morgan Has Some Fun With the Bogus SI Penn State Hit Piece
Ray Blehar on How the Schultz 'Secret File" Could Actually Backfire on the Other Side
Golf Announcers do a "Mike McQueary" by Changing Their Accounts of Tiger's Drop Based on Circumstances
Academic Paper from University of Arkansas Rips GJ Mention of Paterno
What Media Coverage of Boston Bombings Tells Us About PSU/Sandusky
Did Cynthia Baldwin Lie Help the Obstruction Justice Case Against PSU
Ray Blehar on State College TV to Discuss the Case
Ray Blehar On How the Limits of Memory Explains Victim 2's Statement
Eileen Morgan On How Real History Following 1998 Disproves Cover Up
Eileen Morgan On How the PSU BOT Blew It
Ray Blehar On How The Media Botched the Narrative From the Start
Part #2 of Ray Blehar's Analysis of the Freeh Report
Mainstream San Diego Op-Ed Uses Our Efforts to Attack Freeh Report
Detailed Timeline of Events Reveals Absurdity of Cover Up Allegation
Someone Writing at CNN Is Clearly A Fan of "FramingPaterno.com"
Ray Blehar On How the AG's Office Started the False Narrative
Eileen Morgan On Why Penn State Should Not Settle With Victims Yet
Important Evidence the Media Totally Ignored: Paterno's Police Interview
Eileen Morgan on Why the "Cover Up" Theory Makes No Sense
A List of the Most "Under Known" Facts of the Sandusky Scandal
The Media Now Sees Pursuing the "Truth" as a Sign of Insanity
On Anniversary of Joe Pateno's Death, Todd Blackledge Speaks Out!
What Manti Te'o Has Taught Us About How ESPN Determines Veracity
John Ziegler Attacks False "Football Cover Up" Media Narrative on TV