Contribute to the Project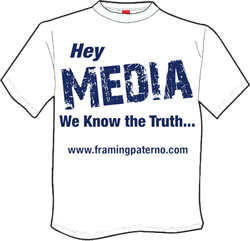 We are not on this crusade to make money. In fact, we are currently running a slight deficit. All of what we do is funded by your donations and every penny goes directly to specific projects.
If you would like to donate to this cause, currently 100% the money given through this website goes directly to paying for the website to be hosted securely. Unfortunately, because of the DOS attack we suffered after the Sandusky interview was released, our costs have increased rather dramatically and we may not be able to maintain the site much longer so that the historical record is preserved.
THANK YOU SO MUCH FOR YOUR SUPPORT!! PLEASE KEEP SHARING THE WEBSITE WITH FRIENDS!!