Contribute to the Project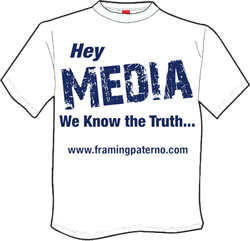 We are not on this crusade to make money. In fact, we are currently running a slight deficit. All of what we do is funded by your donations and every penny goes directly to specific projects.
If you would like to donate to this cause, currently 100% the money given through this website goes directly to paying for Google Ads for our "mini movie." For every dollar you give (please don't give more than $100) we can assure that three new people will be exposed to the real truth of this case.
Also, now that we have released our "mini movie" we are trying to determine if there is enough support to make this into a full movie. We are currently asking interested parties to make a "pledge" (not actual cash at this point) towards the creation/marketing of a full film.
If you are interested in investing (this would not be a "donation") $1,000 or more to this cause, please do NOT go through the website and instead please contact Matt Brush.
Matt has agreed to be our PSU alumni coordinator for our fundraising efforts. If you have any questions, he can be contacted at [email protected]
THANK YOU SO MUCH FOR YOUR SUPPORT!! PLEASE KEEP SHARING THE WEBSITE WITH FRIENDS!!