The "With the Benefit of Hindsight..." Podcast Homepage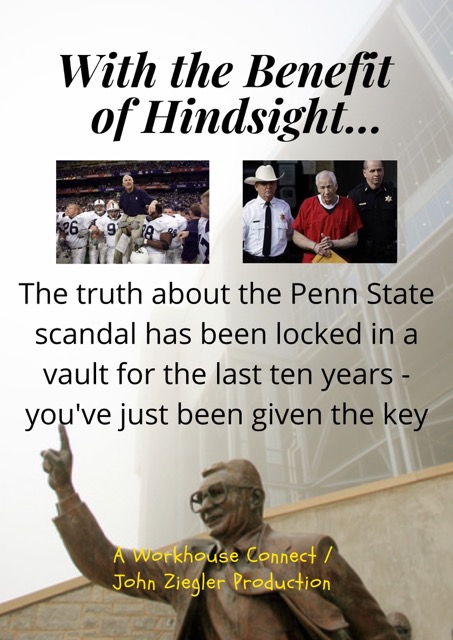 "With the Benefit of Hindsight"
The True Story of the Penn State "Scandal"
Ten years ago, the world was rocked by the most shocking sports scandal in modern American history, when legendary Penn State football coach Joe Paterno, along with three esteemed university administrators, was accused of covering up the child sex crimes of his former assistant coach Jerry Sandusky. For the past decade, the news media has had almost free reign to create and advance a highly flawed, if not completely fabricated, narrative, which was born in an ignorant panic.
This page is the home base for an extraordinary podcast which aims to finally expose the truth and reveal how a perfect storm of circumstances (NOT a huge conspiracy) converged in stunning fashion. What ensued was a tidal wave of false media reports, and, consequently, a gross misperception of reality among the general public, which resulted in a never-ending tsunami of injustice.
For the past year, journalist/commentator John Ziegler, and Fox-Los Angeles TV sports anchor Liz Habib, have spent about 100 hours in a California radio studio creating an unprecedented audio documentary. This podcast combines evidence gathered during Ziegler's nearly ten-year investigation, with explosive new information and exclusive bombshell interviews.
Here is the offical "trailer," which provides some background on the making of this unprecedented journalistic endeavor:
The first episode, of the epic 19 episode series, of the podcast is being made available totally for free at these links:
The first episode focuses on the very strong case that the date of the infamous "Mike McQueary Episode," as documented in Malcom Gladwell's best-selling book, "Talking to Strangers," was not March 1st, 2002, or even February 9th, 2001, as McQueary has testified to, but actually December 29th, 2000. If this is indeed the case, and the evidence of that is nearly overwhleming, McQueary's always shaky claim of having witnessed Sandusky sexually abusing a young boy, as well as much of the entire case itself, quickly crumbles under the weight of basic logic.
As part of the production of this podcast, John and Liz conducted numerous extremely extensive interviews (including with many people very close to "Victim #1" Aaron Fisher, including his soon to be ex-wfe, Mallory Fisher), most of which are being made available right here, for free, with only light editing to elimiate pauses and production gaps.
Foremost among them are two rather long, news-making, interviews with former Penn State administrator Gary Schultz, who pleaded guilty to a misdemeanor in order to avoid a kangaroo court on more serious charges of covering up for Sandusky. These are the only two media interviews which Schultz has ever done about the case.
The first interview, which was conducted with John back in 2018, deals with many of the key details of the McQueary date issue, a topic on which Schultz is perhaps THE most important witness, since it was emails which he turned over to the prosecution that caused them to suddenly change the date from 2002 to 2001. Here, for the first time, Schultz expresses his stated belief that December 29th, 2000 was indeed the real date, and that, amazingly, Jerry Sandusky is very likely INNOCENT of being a child sexual abuser.
The second, even more extensive, interview with Schultz, conducted by both John and Liz in 2020, covers some of the same ground as the first interview, but also provides remarkable context for just how blindsided everyone from Penn State was when brought in to testify at Sandusky's grand jury. It ends with Schultz once again proclaiming that he has no reason to believe that Sandusky is guilty, and expressing strong emotion at the enormous toll that the false narrative has taken on everyone involved.
In a rational world, this interview would have been conducted on national television in primetime, but the news media is no longer remotely credible on this story, so Schultz has trusted only this podcast, exclusively, to tell his mind-blowing version of events, which is backed up by voluminous amounts of evidence, including the testimony of two key prosecution witnesses.
If only one interview could be used to prove that the entire media narrative of this case is a fraud, it would be this one.
A key figure in the "resistance" to the media's fairytale version of this saga has been Pro Football Hall of Famer and Penn State legend Franco Harris, who has been by far the most prominent person to stand up for his college coach Joe Paterno. In this interview with Liz and John, Franco opens up like never before telling the astonishing story of when he confronted Mike McQueary at Paterno's funeral and came away completely convinced that Mike had NOT witnessed a sexual assault. Franco also believes Sandusky deserves a new trial because the first one lacked any semblance of due process.
The WTBOH podcast conducted two very lengthy interviews with key former members of the Penn State Board of Trustees who, for the first time on record, definitively declared their belief, and the very substantive reasons behind it, that not only was there no cover up at Penn State, but, remarkably, Jerry Sandusky himself is clearly INNOCENT. They both also target fellow Penn State board member/chairman Ira Lubert, who effectively paid out the Sandusky settlements, as a critical villain in this travesty.
The first is with Al Lord, a retired CEO of the Sallie Mae Corporation who personally funded former Penn State President Graham Spanier's lawsuit against Louis Freeh. For the first time, Lord addresses, but does not back away from, his controversial remark regarding "so-called Sandusky victims."
Lord is close to many of the key figures in this case, including the Paterno family, and criticizes Scott Paterno for his poor handling of his father's public relations strategy.
The second former PSU-BOT member is Bob Capretto, the founder of a major Pittsburgh-based investment company, and a prestigious selection of Pennsylvania's governor to the Penn State board. Caprettoa former Penn State fooball player himself, may be more well-connected to more key people on the "Paterno" side of the case than anyone, and he concers with Lord on much, including the role of Scott Paterno's PR errors.
Another exclusive interview came from Bruce Heim, owner of a large State College real estate company, a graduate of West Point, and the founder/funder of Sandusky's "The Second Mile" charity. Heim tells the extraordinary story of how he went from being convinced Sandusky was innocent, to then accepting his guilt, to now being certain of his innocence. He expresses real disdain for the man who was in the "boy in the shower" in the "McQueary episode" (a fellow military veteran, Allan Myers), whom he knew well, as well as blame for his friend Ira Lubert who duped him into believing that there was photographic evidence of Sandusky's guilt.
John Snedden is a former NCIS investigative agent who investigated the case for the federal government, right after the scandal broke, because former PSU president Graham Spanier's security clearance was under review. After interviewing more of the primary players than former FBI Director Louis Freeh did during his Penn State-funded investigation, Snedden concluded not only that Spanier was totally innocent, but that everyone, including Sandusky himself, was as well. Here is his very frank interview with Liz and John.
Mark Pendergrast is a respected and prolific book author who has become an expert on the topic of repressed memory therapy, and how therapists can produce false allegations. He wrote a booked called, "The Most Hated Man in America," which makes the case that Sandusky is very likely innocent. Here is his interview with Liz and John.
Perhaps the most mind-blowing element of the entire podcast is the full revelation that, for over three years, a Sandusky supporter conducted a "sting" operation of the primary "victim's" lawyer and his go-to therapist in the case, Andrew Shubin and Dr. Cynthia MacNab.
A.J. Dillen, a former "Second Mile" kid, who was convinced, after attending his trial, that Sandusky was innocent, pretended to be a Sandusky victim and recorded dozens of sessions with both Shubin and MacNab. They completely embraced his story, with Shubin even overtly manipulating it for the purposes of making it more palpable for a potential Penn State payout.
Listeners may well conclude that Dillen is a bit nutty, but there is no doubt that his story is as true, well documented, and enlightening, as it is utterly astonishing. Dillen also conducted his own remarkable interview with Ira Lubert, which provides even more startling revelations.
John and Liz actually conducted two very extensive interviews, on consecutive weekends, with Dillen about the details of the "sting" operation (as well as a third one on the Sandusky trial itself, which can be heard within the actual podcast), For the purposes of continuity, thsese two recording sessions are combined here into one VERY long and unforgettable interview,
The most excruciating interview John and Liz did was with Stan Bolton, who was a member of the grand jury who heard all of the key testimony which led to Sandusky's indictment, and who was bizarrely/outrageously outed nationally by ESPN's Don Van Natta. Unfortunately, the first part of the interview is a bit of a waste because it is clear Stan got scared by a letter from the grand jury judge (and warnings from his wife) away from expressing his real skepticism about McQueary's mysterious grand jury testimony and the case against Sandusky as a whiole. However, the second part of the interview, which contains either the most bizarre set of coincidences imaginable, or one hell of a conspiracy to shut those up who pose a danger to the prosecution's narrative in this case, is well worth a listen.
Since "With the Benefit of Hindsight" started to be released, we have been contacted by some key people wanting to finally talk on the record.
One of those with whom we have been reunited due to the podcast's release is Kevin Horne. He was a top "Onward State" (a popular Penn State online publication) editor when he covered Sandusky's trial. In this raw interview, which will be used in later episodes of the podcast, Horne explains why he is NOW finally willing to admit on tape that Sandusky is INNOCENT. He also reveals how this truth is now accepted as a "dirty little secret" among those close to this story, one which, sadly, very few people have been willing to voice publicly.
After episode 8 of the podcast dropped, legendary sportscaster Bob Costas, whose very high-profile interview with Jerry Sandusky sealed his fate in the public's mind, contacted John Ziegler. After two lenghty phone conversations, they agreed to do an interview for the podcast. Costas makes it clear that his public opinion on the case is different from what Ziegler theorized it to be in episode 8. He also provides important and new context to how his interview with Sandusky came to be, is rather critical of defense attorney Joe Amendola, and remains open-minded about being convinced of Sandusky's innocence. He also defends Joe Paterno against the Freeh Report, which he acknowledges now he was far too quick to embrace.
World-renown memory expert, Dr. Elizabeth Loftus, a professor at UC-Irvine, heard our interview with the "purposely fake accuser" A.J. Dillen, and agreed to do an interview about her reaction to that, why she agreed to testify in Sandusky's appeal, and the generally toxic enviornment when it comes to sexual abuse cases, especially those which are related to super PC academia.
After the intial phase of the podcast was released, we were contacted by the wife of E.J. Sandusky, who was the first child adopted by Jerry and Dottie Sandusy, and who played football at Penn State before becoming a college coach himself. She and E.J. agreed to do their very first interview since this story broke ten year ago, and it is a MUST-listen. It is simply impossible to reconcile this interview with anything that is the publci perception of Jerry Sandusky and this entire case.
Finally, for the first time since they first spoke over nine years ago, John Ziegler and former Penn State president Graham Spanier go on the record for a mind-blowing four-hour interview, covering virtually every aspect of the "scandal." Afer listening to this entire interview, if you still remotely believe the media narrative about this case, then there is nothing which can be done to convince you that you were duped.