Photo of the Year: Franco Harris "Blocks" BOT in "Tiananmen Square" Moment
Here is NFL Hall-of-Famer Franco Harris "blocking" the van taking the PSU BOT members away from their most recent meeting during the "March 4 Truth."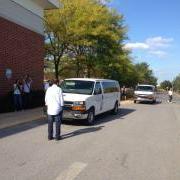 Photos by Mark Dwyer
Did he ever block this well for Lydell Mitchell or Rocky Bleier?!