Video & Documentary Evidence Shows John Ziegler's Arrest at Matt Sandusky Event Was a Farce & Likely Criminal
As anyone who has followed my work on this case knows, the most obvious liar in the entire fiasco is Matt Sandusky. Here is one of several videos I have done indicating why this is the case, which I created after his total meltdown with Oprah Winfrey was ignored by the news media.
A few days ago, Matt did his first speaking engagement in Pennsylvania (where some people actually have a clue about the case and where it is far more difficult to pull off his scam than it is in the rest of the country). In promoting it he actually admitted confusion as to why the state has been very slow to embrace him.
I decided to make the trip (which I was planning to combine with some golf in Pittsburgh) from California to see what he had to say and to hopefully ask him some questions. I had previously offered him $10,000 to his foundation for a one-hour on-camera interview, which he never accepted. I also at least wanted someone who knew the real truth to be there to answer questions form the audience after he was done (Dottie Sandusky, who Matt begged to adopt him at the age of 18, and Matt's former adopted brother Jeff where also there to see the lies first-hand, but I knew they would not even make their presence publicly known).
Here is the heavily promoted flyer for the public event at a public school: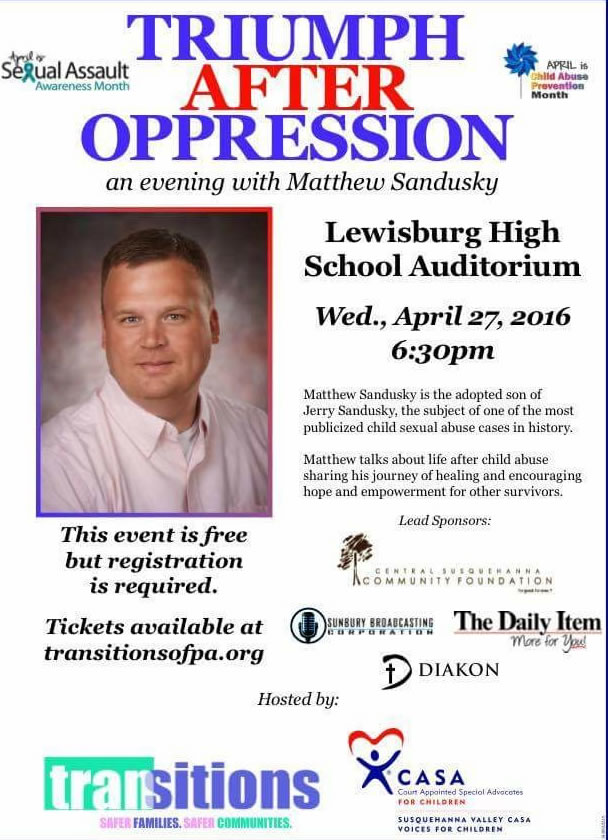 Here is my ticket to the event in my name: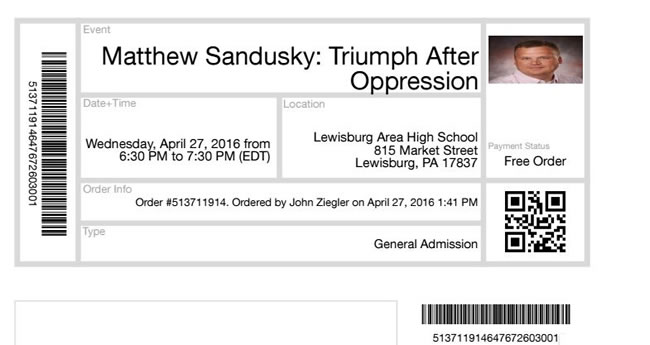 When I finally got there is was VERY obvious that they were prepared for me. When I gave my name at the entrance I was immediately taken aside and spoken to by the organizer and by a policeman.
Here is video of me being clearly targeted by Matt, the organizers & police as soon as I arrive:
After entering, I went down to the front row which was wide open. I saw that on the left side of the auditorium there was a paper sign marking those seats as "reserved." I did not see that on the right side, so I sat down there. I was then approached by the event organizer who was concerned I was recording the event, which Matt had very oddly banned (I was not). Someone told her I was in "reserved" seating and asked if I should be moved and she said it was okay for me to sit there. A few minutes later a policeman (there same one who had allowed me in) told me to leave that section.
Here is video of me being told by police to move from a "reserved" section. I stand up almost immediately and ask for an explanation. Though I never get one, I do receive three strong shoves from a second officer as I am complying with a wish that they were specifically unwilling to tell me was a "legal order" or not :
Then, about 15-20 minutes after the event was supposed to start, two policeman came up to me.
Here is the first part of where I am told by police to leave the premises entirely, for no stated reason, because the school superintendent supposedly didn't want me there. I am then almost immediately dragged out of my seat by police before being body slammed, handcuffed, arrested and charged with trespassing and resisting arrest. More video of that event is available in a news story linked at this YouTube video :
Here is an email the superintendent of Lewisburg schools sent an apparent supporter of mine in which he makes it very clear he did NOT, contrary to what is in the police affidavit, have anything to do with the arrest order (click letter to view larger version):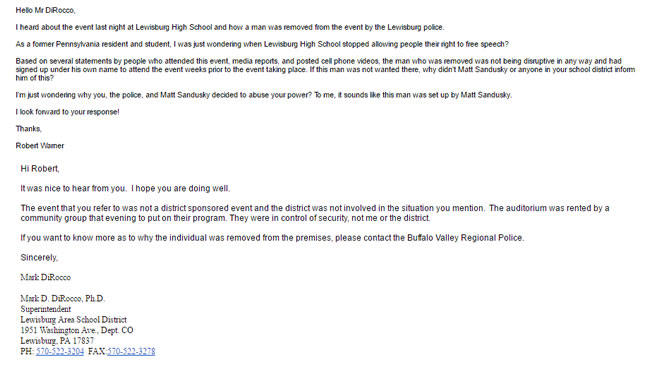 Here is an interview John did with Jeff Byers of WRSC in State College the next morning where he gave more details about what really happened:
http://www.foreverstatecollege.com/2016/04/28/john-ziegler-interview-from-thursday-april-28-2016/
Here is a photo of John later that night after having dinner at Oakmont Country Club in Pittsburgh with Penn State BOT member Bob Capretto and NFL Hall of Famer Franco Harris, who two of the very few people I have met in this case with both balls and brains: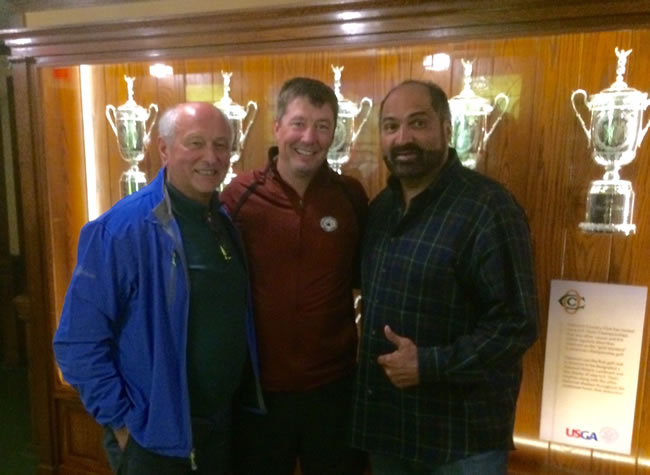 The support I have received since this nightmare has been both amazing and much appreciated. Please share this post and urge others to do the same so that at least the real truth will be known by those who still care about such antiquated concepts as justice.